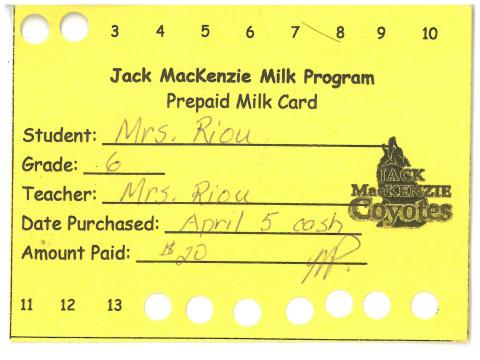 The Senior students at Jack MacKenzie School proudly provide a milk program for any student who stays for lunch.  Individual containers of 250ml each are available in white or chocolate milk, in multiples of 10.   Milk will be available to students beginning Monday, September 11th, 2017. *Please note that the amount of milk cartons available during the first week may be limited, as we cannot always accurately predict the amount that will be required.
Milk will only be available by PRE-SALE (in multiples of 10).  Students must purchase milk cards online, through School Cash Online any day throughout the year. 
With each new purchase of 10 or 20 milk credits, students will receive 1 card. (Note: Families can purchase as many cards at a time as they wish.)
Students will be responsible for keeping these.  The milk cards should stay in their lunch kits so they do not get lost AND so parents can see when a new card needs to be purchased.
More information:
Senior students deliver milk to lunchrooms each day.

Students will show their milk card to the Milk Volunteer to receive a milk.

Lost cards will not be replaced.
Milk cards will be distributed within 3 schools days of an online purchase. 
Please don't hesitate to contact Mrs. Riou (jaime.riou@rbe.sk.ca) with any questions or concerns.  I'd also be happy to forward any information for creating a Schools Cash Online account.