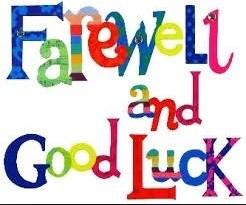 See updates to the Grade 8 Farewell here as of June 8, 2020
Dear Grade 8 Students and Parents of Jack MacKenzie School,
First and foremost, we trust that this letter finds you all safe and healthy during this time. We are excited to share that we have been presented with guidelines to celebrate our grade 8's and honour their efforts in completing this milestone.   Several options are not permissible; these are listed here: (these are non negotiable)
No events will be held

in

person

at the school,

including ceremonies,

or

any

farewell

gatherings of families.
No parades

or

driving gatherings to celebrate

grade

8 farewell.
We will not

be

postponing

an event until

the

fall.
Therefore, all Grade 8 students from Jack MacKenzie School are invited to attend a Google Meet on June 18th at 2pm. The Farewell Google Meet is for students in grade 8 only. The link to join will be emailed to each grade 8 student's RBE email.  In addition to our Farewell Google Meet, students will also receive a Certificate of Achievement and a memorabilia composite photo (at no cost to families) of all the grade 8's; composite photo will be delivered in the fall.
The agenda for the Farewell will be: Welcome Greetings
Virtual Games (chosen from Kahoot/Zoom around the Room/Other)
Teachers wish for you….(Storytime by your Grade 8 Teachers)
Grade 8 Farewell Presentation of Memories (slideshow prepared by Jack Mack Staff)
Closing Comments
Students can choose to wear Farewell attire (optional of course) favourite pandemic clothing acceptable too, as well as have favourite snacks on hand, decorated chair to make this a memorable experience.
June 3rd – 24th  there will be a photo op for individual grade 8 students of Jack MacKenzie, to pose by in front of the school. In the sign, we will have a special Farewell Message to stand with and get those lasting Grade 8 Farewell Memories. Should you choose to take photos at the sign, please maintain a physical distance of at least 2 metres should other Grade 8 students be present, and respectfully wait your turn.  No gatherings during this time  please.
Each of our students has demonstrated perseverance, effort and kindness in the face of a challenging and unprecedented time. We look forward to connecting with and celebrating each of our Grade 8's at our Google Meet on June 18th  at 2pm.
Guidelines and expectations regarding the Grade 8 Farewell Slideshow of Memories will be coming in another email. Sincerely,
Mrs. Scott, Mr. Yeske, Mrs. McCaw, Ms. Wotherspoon & Mr. Fladager 
Letter to Students and Families