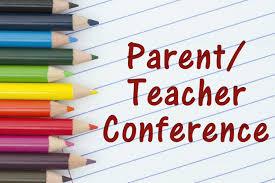 Parent, Teacher, Student Conferences are being held on Friday, November 22nd. There will be no regular classes that day. A log in instruction page will come home with your child (see below also) in early November for you to book your conference times online using Schoolsoft. Conferences are 15 minutes in length. At this time we will be looking at your child's Personal and Social Growth as well as making plans for the year around goal setting and your hopes and reams for your child. We will also be sharing with you some of our value added assessments from the fall. We highly value this opportunity to sit down with you and make plans for the year that will benefit your child and their progress this year. Thanks you in advance for making the time to meet with us!
Great and Getting Greater together! 
Dear Families,
Goal Setting Conferences are quickly approaching and will be held on Thursday, November 21st (afterschool only) and Friday, November 22nd all day (no regular classes). Kindergarten A will have conferences on Monday, November 25th (no regular classes for KA that day). We are pleased to announce that we will be using an online format again this year to schedule our November conferences. The following information has been provided by the software company to help with the online booking process.
Step 1 – Pre-Register at https://jackmac-rps.schoolsoft.com (DO NOT include "www" in the url). This can be done prior to November 8th when Conference Manager opens for bookings. You can set up a Parent Account by following the link above. Click the parent portal button and you will be redirected to a new page. Click the REGISTER NOW button and complete the registration form. Your login credentials (email and password) will remain in the system to make it easy to access the Conference Manager in the future. This is a one-time process and takes a couple of minutes (save your password for future conferences). If you scheduled your conferences online last year, your credentials are still active and you do not need to register again. In order to ensure that your email program does not block emails sent from the Conference Manager, we suggest adding appointments@schoolsoft.com to your address book.
Step 2 – Conference Manager Opens to Parents – November 8th at 6:00 am. You can access the Parent Login Page using the link in the Confirmation Email. If you do not receive a Confirmation Email, you can login by going directly to https://jackmac-rps.schoolsoft.com . A link can also be found on the school website. If you do not have Internet access, you are welcome to contact the office and we will schedule your conferences on your behalf.
Step 3 – Book your Parent-Teacher conference
Select the teacher(s) with whom you want to book conferences. You will see each teacher's schedule. After booking your appointments you can print off your schedule. You will also receive an email containing the teacher name, time and location of the conference. You can log into the system at any time to view your bookings, print, cancel or re-schedule appointments.  You have the option of submitting comments or questions to the teacher as part of the booking process.
Important Dates:
Anytime – Pre-Registration begins
November 8 – Start scheduling your interviews at 6:00 am.
November 15 – Conference Manager closes at 9:00 am.
November 21 – Student Conferences after school only (see teacher availability online)
November 22 – Student Conferences all day (no regular classes)
November 25 – Kindergarten A class Conferences all day (no regular classes for KA)
If you have any questions or need assistance, please feel free to contact the school at (306) 791-8585. We look forward to meeting with you!