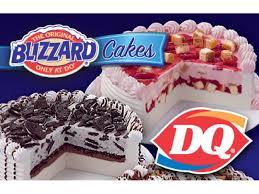 Dairy Queen Ice Cream Cake
Gift Certificate Fundraiser
Need a cake for Mother's Day or Father's Day, Graduation, Confirmation, an upcoming Birthday or any special occasion?
We are selling gift certificates for Dairy Queen (DQ) Ice Cream Cakes
For Every Gift Certificate sold the School will receive
$10.00
Gift certificates DO NOT EXPIRE and can be redeemed at the following Regina DQ Locations:
4734 Gordon Rd

4020 Albert St

2080 Park St

3151 Truesdale Drive

3753-1 Chuka Blvd (New Location)
Order Forms and money are due by Tuesday May 8th.  Gift Certificates will be sent home on Friday May 11th, 2018. Your order form will be returned with the gift certificates attached.
Individual Prizes
(Based on # of cakes sold)
Top Seller – Lunch with Mr. MacKenzie and choice of a $50.00 Itunes or DQ Gift Card
2nd place choice of a $25.00 Itunes or DQ gift card
3rd place of a choice of a $15.00 Itunes or DQ gift card
Top Selling Classroom
 (Based on # of cakes sold)
will have the choice of  
Blizzards or build your own sundae's!!
(Students with food allergies will be given the option of a different treat)
Fundraising Helps Support the following at Jack MacKenzie School
The Library
Playground Enhancements
Water Fountains
Teaching supplies such as Mathletics and more!